I just finished reading a great fiction book called "People of the Book
" by Geraldine Brooks, who won a Pulitzer prize in 2006 for a previous book, her second novel, "March"
, a retelling of Louisa May Alcott's classic "Little Women" from the point of view of Mr. March, the absent father.

Ms. Brooks likes to write historical fiction and I have to say she did a great job with "People of the Book" which deals with the famous Sarajevo Haggadah. This piece of history is truly amazing and I have to admit I had never heard of it before. Here's what Wikipedia says about this amazing codex:

The Sarajevo Haggadah is an illuminated manuscript that contains the illustrated traditional text of the Passover Haggadah which accompanies the Passover Seder. It is one of the oldest Sephardic Haggadahs in the world, originating in Barcelona around 1350. The Haggadah is presently owned by the National Museum of Bosnia and Herzegovina in Sarajevo, where it is on permanent display.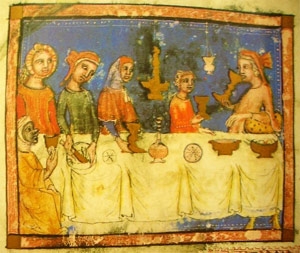 If you want to see some of these fantastic images, whose history is shrouded in mystery,
click here
.
So what did I like about this book? It's based on some facts that have already been discovered about the history of the Haggadah, but it takes the reader through a journey of all the (fictional) characters that may have been associated with its creation and survival. These characters are very well written and intrigue the reader to keep going to find out what all the clues mean.
The story is about an Australian manuscript restorer who goes to Bosnia after the war to restore the Haggadah in order to get it ready for permanent display at the museum. During the restoration she finds several items that then get their own story through history to explain how they eventually got there in the first place.
In order for a Jewish Haggadah to survive for over 650 years, it had to go through a lot. And the story follows many account of Jewish suffering and weaves the story of the Haggadah and the characters surrounding it. As I said, the characters are amazing: A Partisan girl, an African slave, a drunk Inquisitor, a Gambling Rabbi, the deaf-mute son of a wealthy Jewish doctor living in medieval Spain and many others comprise "the people" of the book.
One thing that this book made me think about is the history of the Jewish people, also known as the people of the book. It made me think about how fortunate we are to actually still be around and exist today. Throughout history, Jews have been persecuted, tortured, converted and mercilessly murdered. Just because they were Jews. No other reason. It's just absolutely mind-boggling to me, every time I think about it.
Anyway, I encourage everyone to read this book. It's a fairly easy read and has a lot of twists and surprises that will keep you guessing.
This entry was posted on Friday, October 23, 2009 at 10:47 PM and is filed under
Books
,
History
,
Review
. You can follow any responses to this entry through the
comments feed
.